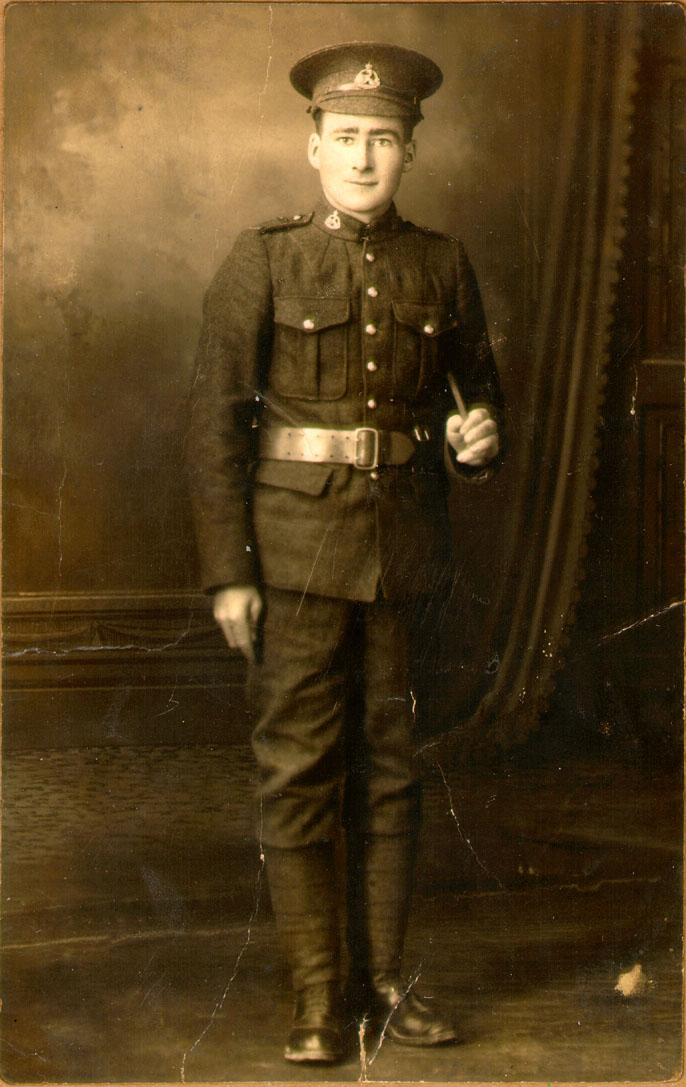 1027395 Pte. George Richard Cross was born on June 11th, 1896, in Ontario, to Lewis Cross and Mary Jones. Lewis died at an early age in 1911, leaving George, 15, a sister Ethel and their mother on their own. Mary remarried and had moved to Dummer, Saskatchewan, where George listed her on his Attestation papers.
It is believed that George stayed in Ontario until he enlisted on 3rd October, 1916, with the 235th Battalion in Campbellford, Ontario. He was 5' 3¾", had dark complexion, blue eyes and dark brown hair.
George embarked at Halifax on 1st May, 1917, aboard the S.S. Megantic and disembarked in Liverpool, England, on May 14th, 1917. He was transferred to the 3rd Cdn Res BN in West Sandling on May 16th, 1917, but taken off strength on June 20th, 1917, at Whitley, and was hospitalised in Canville Hospital at Branshoff for influenza on August 6th, 1917, from where he was discharged on August 24th, 1917.
Taken on Strength with the 4th CMR on February 28th, 1918, George subsequently suffered a corneal ulcer of the eye (it is said from a chlorine gas attack) on October 5th, 1918 and was sent to England on October 7th, 1918. He is listed as invalided Sick and posted to C.O.R.D. Whitley, from Antwerpen.
George was taken off strength from the 4th CMR on October 31st, 1918, then was taken off strength from 1 CORD in Whitley on December 17th, 1918. He was struck off strength in Whitley from the 3rd Res on February 5th, 1919 and was struck off strength to Canada on February 17th, 1919. George was discharged under demobilisation in Regina on March 20th, 1919.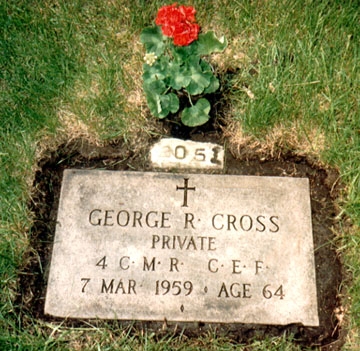 His discharge records list that he served in France for eight months with the 4th CMR. He was honourably discharged and he was entitled to wear two blue service chevrons. His medals and decorations included the British War Medal and Victory Medal.
George married Roberta Kelly in December, 1919, in Peterborough, Ontario, and they had five children: Raymond Charles (served in WW2 as a D Day Dodger and was a founding member of the RCEME); Mary Ellen; Richard William (served in the RCAMC in WW2); Leonard George (served with the Seaforth Highlanders in WW2); and Howard Lewis (served but unit unknown).
George died in March of 1959 and is buried in the military section of Pine Hills Cemetery in Scarborough, Ontario.
---
The above details and photograph credit with thanks to Ron Cross.