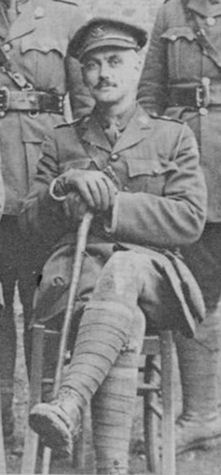 Lt. Robert Almon Spencer was born in Woodville, Ontario on May 5th, 1873 and pursued a profession as a Methodist Clergyman, being ordained in 1899. He preached for a while in Grey County's St. Vincent Township before heading out west to minister off Bella Coola, British Columbia.
At the outbreak of the war Robert attested to the 84th Battalion in Toronto as their Chaplin. He accompanied that battalion to Camp Niagara. While he was there he accidentally washed his feet in a carbolic solution causing him to be hospitalized for some time. These events lead him to attest to the 147th Battalion on February 9th, 1916, as an infantry officer with "A" Company.
Sailing with the 147th Battalion, he became a member of the 8th Reserve Battalion in January of 1917. Due to the glut of Canadian officers located in England, orders were issued that: all officers over 35 years of age and who had not served in France or previously reverted to the rank of Lieutenant for that purpose were to return to Canada. Robert had just reverted to Lieutenant, averting a shameful return home. He was subsequently assigned to the 4th C.M.R. and was taken on strength January 10th, 1918.
Robert served with the unit for the remainder of the war and was struck off strength on February 10th, 1919.
In March of 1919 when the majority of the 4th C.M.R. men were demobilized in Toronto, they boarded the train for Owen Sound. Accompanying them was their commanding officer, Lieutenant-Colonel Patterson, who had been invited to attend the Civic Reception the town of Owen Sound was holding upon the men's return. The Colonel no doubt excepted the invitation based on the sheer number of men, 434, who had served in the 4th C.M.R.
In addressing the attendee's at the reception, Colonel Patterson heaped praise on the returned soldiers and the officers who had served under him. In talking about Lieutenant Spencer, he referred to him as the "fighting parson" as he had put his clerical white collar aside to wear khaki.
---
Image and biography credit: George Auer, with thanks.