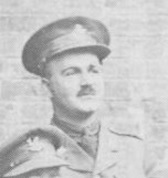 Lt. Joseph Bowman Lynn Yule was born in Harriston, Ontario, on January 2nd, 1887.
By 1916 Joseph was living in Owen Sound and as a musician he was working as an organist. Sometime after hostilities commenced he attested to the 2nd Field Ambulance Depot, in March of 1916. For unmentioned reasons the 29 year old returned to Owen Sound but remained a member of the 31st Regiment, the local militia unit.
When the 248th Battalion C.E.F. was authorized, Joseph once again volunteered for the Canadian Expeditionary Force, attesting to the new battalion as an officer on January 19th, 1917. Lieutenant Yule sailed with the unit in May of that year and was reassigned to a Reserve Battalion once the 248th arrived in England.
Joseph was taken on strength of the 4th C.M.R. in the field on November 9th, 1917, in what was probably a reinforcement draft to take the place of the causalities inflicted on the unit at Passchendaele.
Lieutenant Joseph Yule saw service with the 4th C.M.R. during the German spring offensive of 1918 and fought with them during the Battle of Amiens. It was during the work up for the 2nd Battle of Arras, while the 4th C.M.R. was conducting a relief in place on the evening of the 24th, that Joseph was wounded.
Although reliefs are conducted at night with noise and light discipline in place, something alerted the Germans of events to their front. The Germans suspecting something was up unleashed an artillery barrage of High Explosive shrapnel and Gas shells onto the lines, inflicting heavy casualties among the rank and file of 'C' Company.
Whilst the exact nature of Lieutenant Yule's injuries is unknown it is likely that he recovered as he was struck off strength from the unit on March 20th, 1919.
---
Biography details credit: George Auer