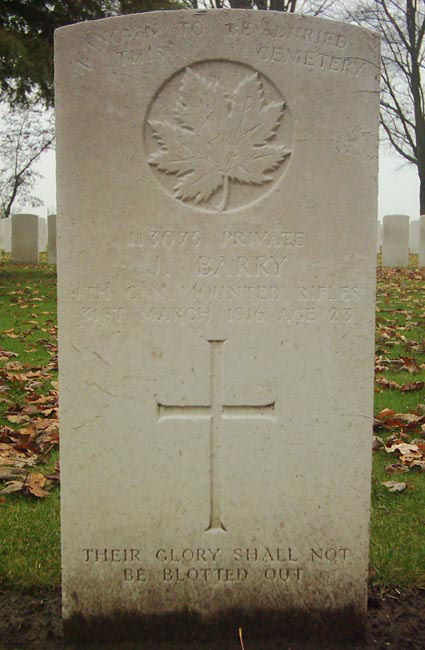 113075 Pte. James Barry was born in Percy Township, Ontario, on March 30th, 1893.
A farmer at the time of attestation into the 8th CMR in Hastings, on August 19th, 1915, James signed on as single and with no previous military experience.
Transferred to the 4th CMR when the 8th CMR was absorbed in late January 1916, James was taken off strength due to being medically unfit at the beginning of February. He was re-instated fit for service on February 21st and was able to join the 4th CMR in the field, catching up with them whilst in billets outside Bailleul (9miles, 15km south-west of Ypres) on March 10th.
On March 28th the regiment moved back into the front line, relieving the 5th CMR, at Sanctuary Wood. The night of the 30th into the 31st was generally quiet, although sniping was active and during the day approximately 100 5.9 Howitzer shells were sent into Sanctuary Wood.
Enemy aircraft were active over the front line between 6am and 7am, and again around 6:30pm. A wiring party under Lt. Clark went out during the night of the 31st, and 16 coils of "French concertina" wire were laid down. It was some time during this day of activity that James was killed.
Pte. James Barry is one of 12 men of the 4th CMR known to lie at rest in Maple Copse Cemetery, near Sanctuary Wood, Ieper.
---
Biography excerpt courtesy of David Kavanagh, headstone image courtesy of 4cmr.com