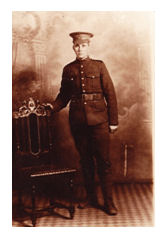 838919 Pte. Roger Thompson Lamont was born in the Township of Sydenham, on June 17th, 1898, and was the eldest son of Roger and Mary Jane (nee Turner) Lamont. His siblings included his brothers Turner and Russell (twins) as well as Fraser. His sisters Margaret and Mary rounded out his family.
The family farm was located just outside of Owen Sound, and Roger attended the school house located at Bothwell Corners and was a member of the Presbyterian Church at Annan. Being the eldest son he took up his duties on the farm with vigour and also sought to improve himself by attending Northern Business College in Owen Sound during the winter of 1913.
Compelled to enlist through a sense of duty rather than a sense of adventure, Roger attested into the 147th (Grey) Battalion on the 31st of March, 1916, a couple of months before the Battalion left for Camp Niagara. While in Camp Niagara Roger barely escaped injury, where, quite bizarrely, whilst on a route march from the Camp to Queenston Heights, a severe thunder storm rolled in and lightning strikes killed a member of the 169th Battalion and put another 58 into hospital! Roger wrote home that he was within "3 rods" (approx 100 feet) of one of these lightning strikes.
Roger accompanied the Battalion to Camp Borden later that year and sailed with them to England in November. A true soldier of the soil, his letters home continually asked about how their family crops were doing and his words painted pictures of the fields in England and a little later of those in France.
Drafted into the 4th Canadian Mounted Rifles, Roger was taken on strength with them on 22nd April, 1917. His letter's home during his time in the trenches with the 4CMR were filled with questions about family and friends back home as well as the usual questions about how the crops were doing. Although on occasion he'd note some of the trials he had to bear at the front. He mentioned that "Fritz starts shelling us", but he wondered how they must feel when "we send over four to his one", how he'd de-louse his shirt everyday and how during one turn in the trenches he didn't wash or shave for a whole seven days. Those were the little things that every soldier in the line had to tolerate, but it would appear that he did not dwell on those day-to-day events, as they were his to endure not his family's.
It was during the battle of Passchendaele that Roger was hit by a bullet in his abdomen. He survived the initial hit but succumbed to the wounding later on the 27th of October, 1917. A letter received by Miss Lamont in 1920 from Malcolm Campbell, who was a soldier that was with him when he got hit, read, "He was conscious and he did not seem to suffer very much. When I left them there were three others with him and he was smiling and quite cheerful." Roger was eventually taken back to Number 44 Clearing Station, where, just 19 years old, he was pronounced dead.
Roger was interned in Nine Elms British Cemetery, Belgium. His service and sacrifice is listed in on the memorial script located in the Leith United Church and he has a plaque in his honour in the Annan United Church.
---
Credit and many thanks go to George Auer for the above biography and images.