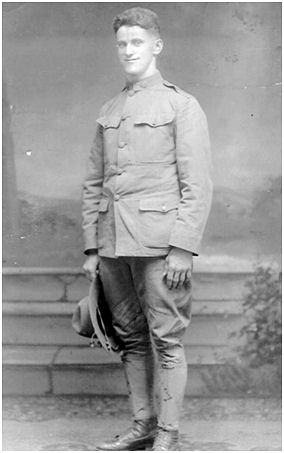 114630 Sgt. Richard Charles Wood
Many felt that this great adventure (WW1) might even be over before they got there. One such person was Harriet Stephens' fourth son, Richard Wood, who was born in Toronto in July 1894. Family lore indicates that he joined the forces before he was old enough. This must have happened before war was declared, because he would have been 20 years old in August 1914. In any case, the story says that his mother wrote to the King, whose staff replied and arranged for him to be discharged. That letter has been lost.
Richard rejoined, initially attesting into the 77th (Ottawa) Battalion on July 27th, 1915, in Smith Falls, Ontario, listing his occupation as a shoemaker. Three months later he arrived in England aboard the SS California, where he undertook training with several units. Latterly Richard served with the 42nd (Royal Highlanders of Canada) Battalion before he was transferred with 41 fellow soldiers to France with the 4th Canadian Mounted Rifles on March 18th, 1916.
His service in France would be short, but not like he and many others had envisaged. He would not have expected to live and fight in such awful conditions. Richard and his Battalion were moved into the area around Ypres, which had been the site of a fierce battle more than a year before. Estimates of Canadians killed, wounded or captured had reached 6,000. The Germans had attacked with chlorine gas and up to 100,000 troops. Now they would try again.
Richard joined his new unit at Camp B and the very next day they set out for the front lines. They marched to a train station and took the train to The Asylum near Ypres and then marched to the huts at Zillebeke, where they stayed overnight. For the next four days they were in the forward trenches at Sanctuary Wood. They spent time repairing the trenches and steering clear of, and responding to, enemy artillery, trench mortar, machine gun and sniper fire. Snow was falling as they were relieved on March 24th and moved back to the next row of defences at Belgian Chateau. For the next four days, while serving as backup to the front lines, they operated as a large work party, repairing trenches, digging tunnels and chambers off the tunnels and hauling and laying electrical and communications cables. They returned to the forward trenches for another four days, followed by four days again at Belgian Chateau. After this sixteen-day cycle they returned to Camp B by train.
On the evening of May 31st, 1916, the 4th CMR moved again to the trenches in the Ypres Salient. Around 9am on June 2nd the silence around Ypres was broken suddenly by the most intense German bombardment ever encountered by the British and Canadian troops. Ordinarily such an intense barrage preceded an attack by only a few minutes but this lasted for hours, concentrating on the area held by the CMR's. The 4th CMR trenches were blown in one by one and the dead and wounded lay everywhere.
At this point the Germans attacked. The few unwounded 4th CMR men fought as best they could until the Germans outflanked them and attacked from the rear. They made a desperate effort to escape, and a few did: the remainder were killed or taken prisoner. The 4th CMR suffered 637 casualties.
The London Times reported - "The lines were held by a battalion of the CMR, and other battalions came up later to assist them through the barrage, and few things finer were ever seen in war than the way in which they came. A smoke barrage preceded the enemy's advance. To the dazed and broken remnants of the men in our trench, the enemy was not visible until he was close at hand. Few of the men of one Battalion who remained had any rifles left that were fit to use, even if the men had been fit to use them. But when they saw the enemy coming and close at hand, they climbed from the trenches to meet them and, some deaf and blind and staggering, they charged magnificently but pitifully to their death with no weapons but broken rifle butts, bits of entrenching tools and their fists."
General Byng wrote to his remaining troops - "I am proud of the Canadians under my command. Their behaviour has been magnificent. I have never known fiercer nor more deadly barrage, nor have I seen troops fight with more earnestness, courage and cheerfulness."
Harriet Stephens received a telegram stating that Richard had been "killed in action" on June 2nd, 1916. His sister Pinky said that Richard had been wounded and, while several comrades tried to carry him to safety, a shell exploded - killing them all.
As his body was never recovered, Richard's name was included on Tablet H, Panel 32 of the Menin Gate Memorial, Ieper town, Belgium, raised to commemorate those lost in the defence of the town and surrounding areas.
---
Credit and many thanks go to John Stephens for the above biography and upper left image.
Credit to Ken Wood for the lower right image (Richard Wood is seated).
Additional service details and Menin Gate Tablet H, Panel 32 image provided by 4cmr.com