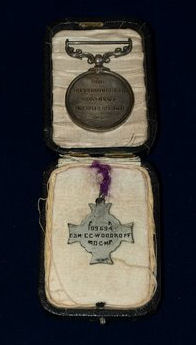 109694 CSM Edward Charles Woodroof, DCM was born in Chelmsford, England, on January 21st, 1885. Having previously seen military service with the 2nd Essex Regiment, Edward emigrated to Canada and subsequently attested into the 4th CMR, in Toronto, on April 16th, 1915, aged 30 years.
Edward received a field promotion to Lance Corporal on January 3rd, 1916, and he completed sniper training in March of that year. In July he received another field promotion to Acting Sergeant.
On July 22nd, 1916, Edward was awarded the DCM (image, right). The citation reads:
"For conspicuous bravery and devotion in volunteering and going out as a scout during a heavy bombardment on two occasions and obtaining much valuable information."
His award was publicly announced in the London Gazette, edition 29713, pg.8248 of August 19th, 1916
Edward took part in the bloody battles of Ypres and the Somme and he was gassed three times.
On September 27th, 1916, he gained another field promotion to full Sergeant and was then promoted again on November 11th, to Company Sergeant Major.
On December 20th, 1916, Edward was taking part in a diversionary raid at Vimy Ridge, where he received shrapnel wounds to his thigh. He died the same day at No 8 Canadian Field Hospital. He was subsequently buried at Louez Military Cemetery, Duisans, France.
---
Thanks and credit to Geoffrey Woodroof, Keith Woodroof and Rick Bahen, for biography details and images.